Common Motor Vehicle Accident Causes
While many motor vehicle accidents are minor, over 38,000 people are killed annually from fatal road crashes, and millions get injured seriously where they require medical attention.
The most common causes of road accidents in the U.S. include:
Distracted driving, which includes texting or applying makeup while driving
Drunk driving and driving under the influence (DUI)
Driving above speed limits
Reckless driving
Driving in bad weather
Failure to stop at a red light or stop sign
Fatigue
Injuries from Car Accidents
The type and extent of car occupant injuries depend on several factors, including:
Whether occupants were wearing seat belts
The speed the vehicle was travelling at the moment of impact
The direction of crash impact
Prevalence and deployment of airbags
The common types of auto accident injuries include:
Whiplash
Traumatic Brain Injuries (TBIs)
Broken ribs
Scrapes and cuts
Chest injuries
Internal bleeding
Herniated discs
PTSD
If you've suffered a car accident injury, including any of the injuries mentioned above, it is integral to retain the help of an expert car accident law firm who will fight to obtain maximum compensation on your behalf. Call 866-465-1419 or fill out the form below to get started on your path toward recovery today. 
Seeking Damages from Car Accident Injuries
The setup of U.S. federal and state law enables the compensation of victims for certain losses they incur in connection to road accidents. These losses are called damages and include:
Bills for medical treatments
Emotional suffering – also referred to as pain and suffering
Psychological injuries – including PTSD and loss of affection or companionship in wrongful death cases
Adverse changes in lifestyle
Financial losses – lost wages, medical bills, lost earning capacity, etc.
Diminished quality of life
Ultimately, the entire compensation picture takes a while to paint, which is why a car accident law firm and an experienced car accident injury lawyer is essential to consult following an incident. Ready to file a lawsuit? Call 866-465-1419 or fill out the form to be connected with a top car accident law firm near you today.
Filing a Car Accident Lawsuit Following a Crash
Motor vehicle accident victims are eager to restore their lives to normal following a car crash. One way to help this process along is by obtaining a high settlement for their injuries. However, sometimes the other driver or their insurance company refuses to offer a reasonable settlement. In such cases, victims need not accept a low settlement offer and can seek legal recourse by filing a car accident lawsuit.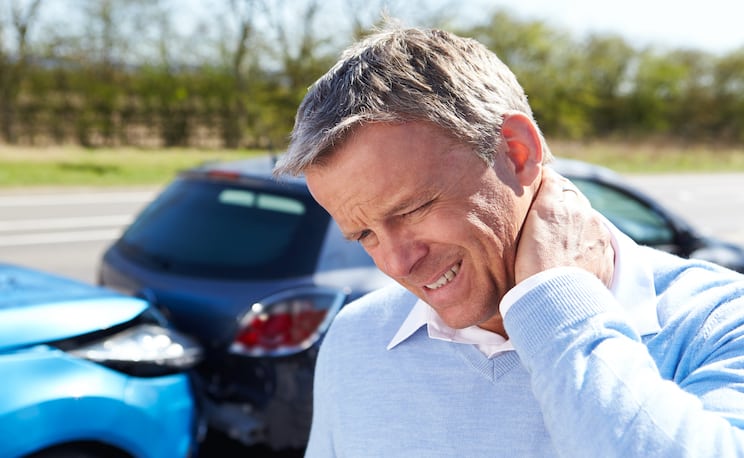 The following are typical steps of a car accident lawsuit process:
Filing a complaint (also called a petition) with the court
Serving the complaint or petition on the defendant
The defendant files an answer
The process of discovery
Trial (the petition goes to trial in the event that a car accident lawsuit settlement fails)
There are several additional steps that can occur during the course of a lawsuit, which a car accident injury attorney can explain in further detail. These include the filing of motions and appeals of the judgment. It is highly important you have the best of the best legal help to guide you along the way. Get in touch with the best car accident lawyers in your area by calling 866-465-1419 or filling out the form below.
Who Can Be Held Liable in an Auto Accident?
An injured victim can hold all responsible parties liable for their accident provided they prove negligence, recklessness, or intent to harm. Such parties include the other driver(s), pedestrians, corporations in the case of a truck accident, or a jurisdiction like the state, city, or any other municipality.
Statute of Limitations in Car Accident Cases
The statute of limitation refers to the time limit a victim has for bringing a motor vehicle accident claim or lawsuit. The statutes of limitations for personal injury claims vary from state to state. A car accident law firm can advise you on your individual state's statute of limitations.
What Should I Tell My Car Accident Injury Lawyer When I First Speak with Them?
Free initial consultation is the norm for personal injury attorneys. During the first meeting, a victim should go prepared with their narrative and give an honest account of everything that happened. As hard as it may be, it's important motor vehicle accident victims maintain a cool head throughout the meeting despite their pain or anger. They should also ask any questions they may have.
Finding the Leading Car Accident Law Firm
The Law Center
The Law Center helps those who have been wrongfully injured by providing legal and medical information and by connecting victims to the leading law firms and attorneys in their area. Our mission is to help as many people across the U.S. as possible gain access to quality legal guidance and representation so they can maximize their monetary compensation for a wrongful injury.
Contact us today at 866-465-1419 or fill out the form below for a free consultation with the best car accident law firm who is ready to take on your case and fight on your behalf.