In Alabama, the iron/steel, papermill, manufacturing, construction, ship-building and refinery industries have been associated with high-incidences of asbestos exposure and related litigation. We'll delve into several of these cases involving Alabama asbestos exposure. We'll also discuss Alabama mesothelioma and lung cancer lawsuits, and how they played out.
Mesothelioma, Lung Cancer, and Asbestos Exposure in Alabama
Mesothelioma is a cancer caused by exposure to asbestos. When asbestos enters the lungs, tiny fibers typically become trapped inside the lungs, causing inflammation and damage which can lead to cancer and other conditions. Sometimes asbestos fibers migrate to the mesothelium, which is the thin layer of tissue that covers the majority of your internal organs. There's also a long latency period, which can last between 10 and 50 years. Therefore, a person can be exposed to asbestos and appear perfectly healthy before showing any symptoms. According to OSHA, "there is no 'safe' level of asbestos exposure for any type of asbestos fiber. Asbestos exposures as short in duration as a few days have caused mesothelioma in humans. Every occupational exposure to asbestos can cause injury or disease; every occupational exposure to asbestos contributes to the risk of getting an asbestos related disease."
Alabama asbestos exposure rates rank 24th in the United States. In 2014, the last year for which per year records are available, the CDC reported 124 deaths from Mesothelioma. Between the years 1999 and 2017, 616 Alabama residents died of Mesothelioma and 802 people's lives were lost to Asbestosis.
Asbestos Exposure in Alabama Workplaces
The workplace has been the leading source of asbestos exposure, both in Alabama and in the US at large. Asbestos exposure generally occurs during the fabrication/alteration and installation of an asbestos-containing product, but can also occur during the ongoing use and maintenance of a product, and finally during product removal. However, some asbestos exposure may have occurred in the home during remodeling and construction.
The most common known sources of asbestos in Alabama surround various heavy industries. These include U.S. Steel, U.S. Pipe, International Paper, ACIPCO, ABC Coke, CAPCO, Hayes Aircraft, Pullman Standard, Republic Steel, Stockham Valve, Woodward Iron/Coke, power plants, Alabama Dry Dock and Shipyard Company, the Gulf Ship Building Company, and the Coastal Mobile Oil Refinery, among many other steel, power plant, chemical, manufacturing, and papermill plants. There have also been cases of exposure at military sites such as Redstone Arsenal, Anniston Army Depot, and Maxwell Air Force base, among others.
Over the past few decades, asbestos use has declined in the United States. However, it was so heavily used years ago that many residents of cities with these industries are at an increased risk of asbestos-related injury being diagnosed even now. An extreme example of recent asbestos exposure would be the collapse of the World Trade Center in 2001, where thousands of New Yorkers were exposed to pulverized asbestos in the air.
In Alabama, the riskiest cities are those where known asbestos exposure incidents have occurred. These include:
Alabama Cities With The Highest Asbestos Exposure Incidents
Bessemer, Alabama
Birmingham, Alabama
Anniston, Alabama
Huntsville, Alabama
Mobile, Alabama
Gadsden, Alabama
Tennessee Valley Authority
Additionally, people from any town or city may be at risk from asbestos-containing products in their own homes. The risk for asbestos exposure is highest during construction, demolition or remodeling. Old asbestos siding, insulation, or roofing material can get broken, releasing asbestos fibers into the air. When possible, to avoid this risk, the EPA recommends leaving asbestos-containing material intact, and covering it up, if it's in good condition.
Asbestos Exposure in Alabama Workplaces
The workplace remains a leading source of asbestos exposure, both in Alabama and in the US at large. Asbestos exposure generally occurs during demolition or construction work. However, it can also occur due to an accident, or due to employers failing to implement proper safety measures.
Asbestos Exposure in Alabama Manufacturing Facilities
Prior to the 1980s, asbestos was frequently used in a multitude of construction and insulating products, both for commercial and residential uses. This allowed the asbestos-containing products to resist high temperatures. Unfortunately, it also put workers at risk if proper safety protocols weren't followed to the letter. During the 1960's and 1970's, the manufacturer CAPCO produced asbestos-containing cement pipe at their facility in Ragland, Alabama. CAPCO pipe was used throughout hundreds of Alabama jobsites.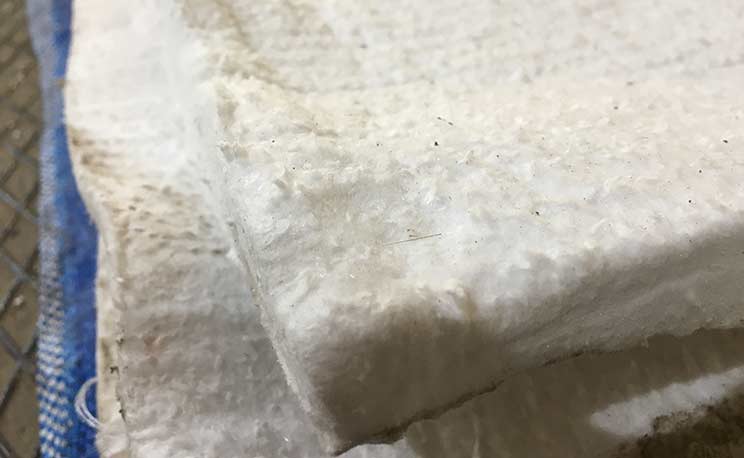 Alabama Asbestos Exposure in Shipbuilding
During World War II, the government contracted with dozens of shipbuilding companies throughout the United States, including Alabama's Gulf Coast. These facilities were needed to produce the huge number of ships required for the war effort. At the time, Asbestos was the best known material for fire prevention. Fires are a serious risk to ships at sea, since sailors are forced to fight the fire in an enclosed environment, often surrounded by fuel and weapons. As a result, many of these shipbuilding companies used asbestos in ship construction. This was not illegal as long as the workers were properly protected while working with the asbestos as regulations required. Unfortunately, many times this was not the case and workers were exposed to asbestos.
One of these World War II shipbuilders was the Alabama Drydock & Shipping Company (ADDSCO) in Mobile, Alabama. In 1944, an industrial health survey was conducted to determine whether ADDSCO was following minimum safety standards established by the U.S. Maritime Commission. At the time, no mention was made of asbestos. When the asbestos use came to light in the 1990s, ADDSCO subsequently paid a fine of $1 million for safety violations.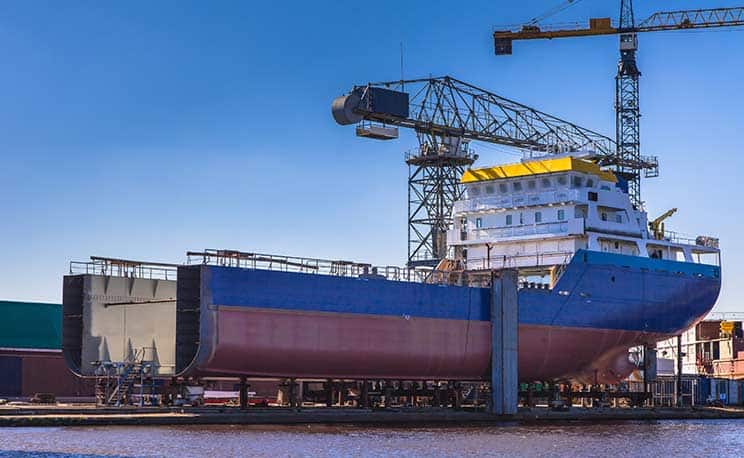 ADDSCO wasn't the only shipbuilder that used asbestos extensively during World War II. Another such company was Bender Shipbuilding, also located in Mobile, Alabama.
The Gulf Shipbuilding Company's Chickasaw shipyard also exposed workers to asbestos during World War II. Unfortunately, the company is no longer in existence, having built their last ship in 1983.
Alabama Iron, Steel and Foundry Workers Asbestos Exposure
Iron and steel production requires heating steel to its melting point, which is about 2,700° F. This process presents a significant heat risk. In order to mitigate this risk, steel mills need to use significant quantities of heat insulating materials. For decades, the most popular material for this purpose was asbestos. While asbestos use for this purpose has been illegal since the 1980s, many steel mills still use older equipment with this type of insulation. As a result, steel workers remain at risk for asbestos exposure. A 2010 study by the National Institutes of Health determined that after five years in the steel industry, 19% of workers will be exposed to asbestos. However, the risk of exposure for workers prior to the 1980's was 100%
There are numerous iron, steel and foundry plants in Alabama at which asbestos-containing insulating products were very heavily used: U.S. Steel, U.S Pipe, ACIPCO, ABC Coke (Alabama By-Products), Republic Steel, Connor Steel, Woodward Iron, Stockham Valve, Anniston Foundry, Bethea Foundry, Central Foundry, CECO Steel, Clow Pipe, McWane Pipe, Nashville Bridge, Thomas Foundry and many others. Anyone who worked at these or similar plants before the 1980's was almost certainly exposed to asbestos on a daily basis.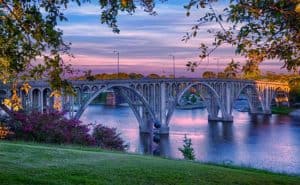 Treatment Support Services for Asbestos Diseases in Alabama
These Alabama resources include transportation, home care, support groups and counseling, as well as veteran resources. There are doctors in Alabama who are experts at working with and treating mesothelioma, […]
Alabama Asbestos Exposure in Chemical Plants and Oil Refineries
Like iron and steel mills, chemical plants and oil refineries require workers to work in close proximity to high-temperature materials. Papermills regularly used many chemicals to process wood into paper. The refining process involves the boiling of crude oil or other chemicals to separate it into various compounds. In addition to the heating elements for these large oil tanks, chemical plants and refineries also have numerous pipes for transporting hot gasses and liquids. There are several potential sources of asbestos in oil refineries. These include:
Seals, sheets, and gaskets
In order to prevent leaks – seals, sheets and gaskets must resist high-levels of heat from the material running through the pipes and fittings. The deterioration of the asbestos material in the seals, sheets, and gaskets poses a risk of exposure to workers responsible for repairing and replacing them.
Thermal insulation around heating elements and pipes
Asbestos has not been used for this purpose since the 1980s. However, many chemical plant and oil refinery workers were exposed to asbestos insulation for many years. In addition to heating elements and pipes, this insulation can be found on tanks, boilers, reactors, ovens, dryers, furnaces, pumps, and heat exchangers. When this insulation became damaged, it released asbestos fibers into the air.
Plant construction
In addition to insulation, asbestos was used in other parts of these plants. This included roofing tiles, walls, heat shields, insulating wraps and protective screens. It can even be found in older types of duct tape that's used as a sealant.
"Up to 90% of workers in the oil refining industry had direct and/or indirect contact with asbestos, and more than half of this contact occurred without the use of any kind of precaution, thus these workers are in high risk of developing lung cancer and mesothelioma, both fatal diseases."

National Institutes of Health
There are numerous chemical plants and papermills in Alabama at which asbestos-containing insulating products were very heavily used: Armour Chemical, Amoco Chemical, Monsanto Chemical, Reichhold Chemical, Stauffer Chemical, Allied Paper, Boise Cascade Paper, Champion Paper, Gulf and Gulf States Paper, International Paper, Kimberly Clark, Scott Paper, Union Camp, and many others.
Asbestos in Alabama Military Facilities
In November of 1980, military contractors were performing routine maintenance on a building at the Redstone Arsenal army base in Huntsville, Alabama. During this maintenance, some asbestos-containing ceiling insulation was disturbed. The Environmental Hygiene Agency subsequently surveyed the site, and determined that some workers experienced "incidental exposure" to airborne asbestos. While the risk of further exposure was deemed to be low, the Army subsequently had the rest of the insulation removed as a precautionary measure.
In the 1990s, the US Army determined that the World War II-era army barracks at Fort McLellan, outside of Anniston, Alabama, contained medium levels of asbestos, along with other dangerous contaminants. The buildings were subsequently remediated, and the base was ultimately closed in 1999. It is now operated by the Alabama National Guard. In 2017, 25 Congress members cosponsored the Fort McClellan Health Registry Act, which would have established an official registry of service members affected by the toxic base. The bill ultimately failed to pass.
Asbestos exposure was common at military bases such as Redstone Arsenal, Maxwell Air Force Base, and Anniston Army Depot during construction, remodeling, maintenance and repair of equipment, vehicles, and facility buildings.
Asbestos Exposure in Alabama Factories
Located in Birmingham, Alabama, during the 1950's to 1980's Hayes International Corporation was an aircraft manufacturer that built aircraft near the Birmingham Airport. Not only was asbestos insulating materials used in aircraft construction, maintenance, and repair, but it was also used facility wide to insulate hangar and repair bays, steamlines and pipes, boilers and other heat producing equipment and machinery. Hayes is just one example of many Alabama factories that used asbestos containing products for many years throughout the facility.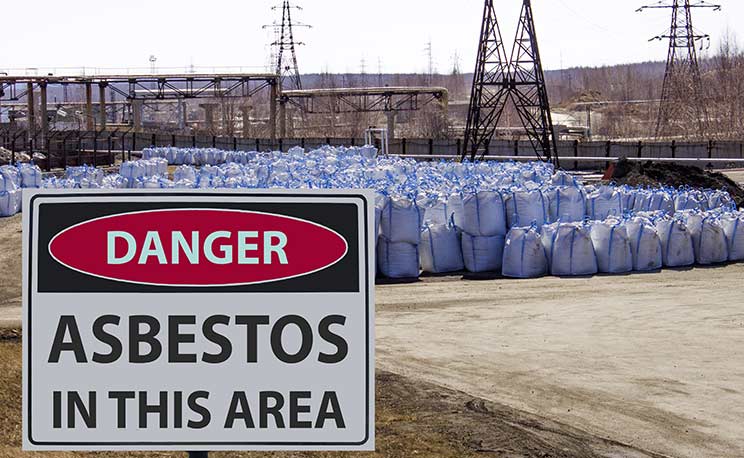 Alabama Companies Sued for Asbestos Exposure
Typically, an employee bringing a claim against an employer will fall under workers compensation laws.  Asbestos injury lawsuits and claims are brought against manufacturers and distributors of asbestos products (such as the company that made the asbestos pipe insulation or cement), rather than employers. 
Alabama Mesothelioma and Lung Cancer Lawyers and Asbestos Attorneys
If you or a loved one has become ill due to asbestos exposure in Alabama, you may be entitled to compensation. To get the most competent representation, it's important to choose an attorney that's familiar not just with federal regulations, but also with Alabama state law. By choosing an Alabama asbestos injury lawyer, you can rest assured that your attorney is qualified to handle your case, whether it is mesothelioma, lung cancer, throat cancer or a digestive tract cancer.
The Law Center and Environmental Litigation Group P.C.
Our partner, Environmental Litigation Group P.C., has a 30-year track record with asbestos, asbestos disease, cancer and mesothelioma litigation. Since 1990, they've helped over 15,000 people get compensation for asbestos-related illnesses. Fighting for their clients, ELG has recovered more than $1.4 billion in claims.
When at all possible, our partner Environmental Litigation Group P.C. will attempt to reach a negotiated settlement. This is usually less risky than going to court. In some cases, such as cases where a trust fund has been established, affected individuals may be entitled to a payment with only a medical diagnosis and minimal exposure to asbestos. Once again, every case is different, and the only way to get more information is to speak with a qualified attorney. It is our mission to help you find the best attorney for you, which is why we have partnered with the attorneys at Environmental Litigation Group.
Environmental Litigation Group P.C. can help with any asbestos-related claim. They have represented clients who suffer from lung cancer, throat cancer, mesothelioma, colorectal cancer, esophageal cancer, bronchial cancer, and gastrointestinal or stomach cancer. They have also represented people who have been exposed to other workplace toxins. Contact The Law Center for a free consultation, and find out what the team of experienced attorneys can do for you.